Washington Also Saw Record Albacore Catch In 2019
Albacore catches reached new heights up and down the Northwest Coast in 2019.
Last fall we reported that Oregon tuna anglers set an all-time high, and data we received this week shows that Washington fishermen put a record number on ice too.
Final figures for the season from the Pacific Fishery Management Council show those landings were 98,602 and 87,572 fish, respectively.
The tallies topped previous big catches of 61,486 off Oregon in 2012 and 78,249 off Washington in 2015.

It's an unusual alignment in records dating back to 2004, given how the fishery is primarily driven by the convergence of phytoplankton blooms with tuna-friendly ocean water temperatures, good weather conditions, and proximity of the vast schools to ports – factors that can vary widely off our 400-mile coastline.
But it's also one more sign of how tuna angling has grown in the Northwest this century.
As few as 12,089 and 4,849 were caught by Washington and Oregon anglers back in 2005, at the relative dawn of the modern fishery.
Evergreen Staters went on just 1,515 tuna trips that year, but in 2020 took 14,438, the most yet, according to PFMC figures.
Even as the number of express charter boats making daily trips grows, private anglers are getting more and more adept at getting on the fish.
For the August 2020 issue of Northwest Sportsman, writer Dave Anderson shares how he felt like "a king" after catching 13 tuna the first time he went out for them in his own boat, but his education in all things albacore really came during a charter trip with skipper Mark Coleman and a summer spent deckhanding.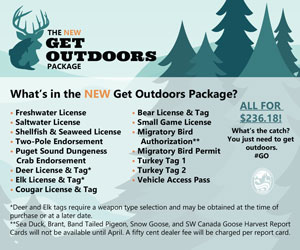 The before and after difference is not unlike two primary ways to catch the fish – dragging magnum-sized plugs around on the open ocean hoping to bump into one, and tossing nose- or collar-hooked anchovies into a sea churning with hungry tuna.
"Bait fishing is about as exciting as it gets. Imagine all of your buddies standing around as chaos ensues, and you have fish hanging and boiling all around your boat," Anderson writes.
High abundance makes it more worthwhile for ever-savvier freelancers to make the long runs out, and that shows in 2019's numbers.
The private fleet accounted for 72 percent of last year's Washington catch, 63,435 fish, sharply up over 2018 and 2017 when fishing was poorer and landings were lower. Anglers averaged 6.07 fish in 2019, up from 3.24 and 3.68, the lowest figures back through 2004, PFMC records show.
Data for Oregon is a little muddier because guided catches are included in the tally, but 94 percent of 2019's haul was classified as landed by private boats.
Westport accounted for a combined 53,357 private- and charter-landed albies last season, the most for any Northwest port.
Other top harbors were: Charleston: 41,442; Ilwaco: 32,524; Winchester Bay: 14,984; Garibaldi: 12,316; Newport: 9,928; Depoe Bay: 5,843; and Brookings: 5,778.
But even as Oregon's catch hit new highs last summer, the size of the tuna also appeared to be the lowest in 15-plus years. Preliminary stats through Sept. 8 showed the fish averaged just 25.67 inches, more than 3 inches shorter than the average since 2004, 28.9 inches.
An ODFW ocean manager speculated it was related to a "strong younger age class that is available to the fishery."
That potentially be good news for 2020, and already the first sport-caught albies have been brought to port.
An All Rivers and Saltwater Charters crew caught 17 fish 50 nautical miles out of Westport on July 2 on a mix of jigs and bait, "and left them biting," according to a report on Facebook.
With coronavirus concerns, it's unclear if 2020 will top 2019, but there appears to be room for growth in the future.
A 2018 Oregon State University study found that commercial albacore fishermen who incidentally worked strong so-called "Lagrangian Coherent Structures," which mark where rich surface waters and ideal tuna temps converge, "could expect to make three times more revenue per trip."
Though an OSU press release on the research noted that LCSs can't be seen on satellite images, "experienced seafarers can sometimes locate them by thermal and chlorophyll maps, or visual cues, including a long stretch of turbulent water filled with organisms. In addition to fish, these LCS regions often attract baleen whales and certain seabirds."
Directing tuna anglers towards these productive oceanic rips off the Northwest Coast could potentially "lessen time at sea and thus fuel costs and risk," according to OSU.
What would benefit the comm fleet could aid the sport fleet.
"In addition to this new information, it's also vital to have strong management policies to ensure the sustainability of the fisheries," added university marine ecologist and lead author James Watson.
Meanwhile, organizers of two annual albacore derbies feel they have a plan for successfully navigating the strong currents of coronavirus, which has led to so many other events being cancelled this year.
First up is the Washington Tuna Classic Aug. 14-15 out of Westport and it is followed Aug. 28-29 by the Oregon Tuna Classic out of Garibaldi Aug. 28-29.