Walleye Anglers Worry About Mid-Columbia Study
Washington walleye anglers are concerned about a study on the mid-Columbia and what it might mean for what's become a thriving, destination fishery.
Alarm bells began ringing about a month ago with word that a state contractor was working the waters around Tri-Cities during the fishing shutdown.
Extrapolating from the limited information that seeped out from Department of Fish and Wildlife officials, they worry about the future of the popular species in the stretch of the big river where the last two state records have been caught and which provides solid fishing for eater-sized fish.
Word on the street was that the walleye were being electroshocked and the goal is figure out where they are spawning, leading to fears this is the first step toward some sort of population control program.
And they're calling on their state lawmakers to halt it, as well as reinstate protective fishing regulations that have gone by the wayside in the salmon-centric Pacific Northwest.
"This news about them killing the walleye off left me speechless," says angler Tim Milward. "This sort of behavior by the WDFW isn't right. They have not had discussions with the people of Washington state. This resource belongs to the people of Washington state."
Milward says he moved to the Northwest a dozen years ago and thought his walleye angling days were done, but he was pleasantly surprised to find a "vibrant fishery" here.
"Walleye are a highly prized sport fish and the residents of Washington are thankful to have it. More and more people every year are learning about walleye fishing, trying it and actually enjoying it. I work with people who can attest to this. It is a fishery that produces recreational activity, business and revenues and the WDFW can benefit from that," he says.
While he doesn't like some facets of state management — the fact there aren't catch or size limits on the species, that tournaments are held over spawning fish — in this particular case he feels like the fish are being scapegoated.
"This guise of saving the salmon and steelhead from extinction by killing off the walleye is pure and utter nonsense," Milward says. "Plenty of science and bodies of water where this works out just fine are all over the east."
GEOFF McMICHAEL IS ANOTHER WALLEYE ANGLER who is paying close attention to the study.
In fact, he's the one doing it for the state of Washington.
"I'm an avid fisherman. I'm an avid walleye fisherman and I'm very good at it. I've let hundreds of females over 10 pounds go," he says. "What motivates me is the research questions."
He owns and operates Mainstem Fish Research and with funding from the legislature as part of Governor Inslee's Southern Resident Killer Whale Task Force recommendations, McMichael's project is to catch 100 walleye and 50 smallmouth bass in the Columbia between McNary and Priest Rapids Dams, and another 10 of each species in the Snake up to Ice Harbor Dam, for a total of 170 fish.
When we spoke April 22, he was off the water due to the Stay Home, Stay Healthy order, but he had collected 26 walleye and two smallmouth bass so far this year, and had 39 walleye on hand from unrelated efforts in recent years.
He says his permit allows him to only use hook and line to catch the fish, and anyway, electroshocking wouldn't work for walleye, which tend to hang out too deeply in the water column.
"This study that folks are concerned about now, the object is to find out where smallmouth bass and walleye in this stretch originate," McMichael states.
His goal is to catch fish from a range of different locations.
"Where did they come from? Did they spawn locally, are they coming down from the Snake or the irrigation project?" he asks.
McMichael says there is some data that shows fish movement throughout the study stretch, but it's also possible it's just two big populations of predators.
"Do they have any homing fidelity [to spawning locations], or do they just pull up and be done? That's why I want to spread it out," he says.
So, I asked McMichael, is the ultimate goal here to suppress the source populations?
"That's way beyond what my study is. It's up to the state, they're the managers," he says.
I HAPPENED TO HAVE SPOKEN TO WDFW staffers the day before about what was going on.
"What he's doing is gathering information," says district fisheries biologist Paul Hoffarth in Tri-Cities. "It's been blown out of proportion."
He acknowledges McMichael probably "stuck out like a sore thumb" before getting shut down due to the governor's order, but he says there are "no plans" to implement a northern pikeminnow sport rewardlike program for walleye and bass in the near future.
WDFW is essentially managing the contract for the legislature, Hoffarth says.
He says that he also contacted local anglers to help McMichael out.
After McMichael collects his 170 fish, which could last as long as September, he will do a "microchemistry analysis" for "water signatures" that turn up in their otolith, or ear bone, Hoffarth says.
That will help determine where the walleye and bass were born, whether that be the Snake, Walla Walla, Yakima, mainstem Columbia or elsewhere.
Hoffarth points out that the state of Washington has done "very little" population work on species besides salmon and steelhead.
"We just need new updated information on prey-predator relationships," he says.
Pressed on anglers' concerns about what it might lead to, Hoffarth defends the need for more research.
"Why wouldn't we want it? We don't have a lot of good data sets," he says.
It could also benefit anglers, Hoffarth adds, providing WDFW with scientific information "rather than us making arbitrary decisions."
TO SPINYRAY FISHERMEN IT ALWAYS LOOKS LIKE the state of Washington has it out for bass, walleye and channel catfish, nonnative species that certainly have been the subject of less and less restrictive regulations over the past decade.
"The fact the WDFW sees them an invasive species is absurd. You can argue everything may have been invasive at some point in time," says Milward, the walleye fan.
"If you really want to get down to that level, one could argue that the walleye fry provides food for the trout and salmon as the latter are more aggressive than the walleye on feeding," he adds. "The Skeena River in British Columbia is closed to steelhead and salmon, as well as many other tributaries. Is this because of the walleye in the Columbia? Not really."
Poor ocean conditions have led to low salmonid returns up and down the Pacific Northwest Coast.
There can also be zero doubt that the Columbia's native piscivores like northern pikeminnows along with flocks upon flocks of fish-eating birds devour more than their share of outmigrating smolts in the highly altered hydropower system, while myriad marine mammals take theirs at sea and as the adult salmon return.
To address that last one, the states of Washington, Idaho and Oregon and the Yakamas, Nez Perce and other tribes have jointly applied for an expanded federal permit to remove California as well as Steller sea lions in the Columbia between I-205 and McNary Dam and in all salmon- and steelhead-bearing tribs, and it appears a decision is due in late summer.
Prior to that and at the prodding of federal overseers worried about impacts on ESA-listed salmon and steelhead, in 2013 WDFW began to lift daily and size limits on walleye, bass and catfish in parts of Eastern Washington, then in 2016 extended that to the Columbia shared with Oregon.
Then, in March 2018, with starving orcas in the news, Gov. Inslee formed his Southern Resident Killer Whale Task Force. Not long afterwards a joint WDFW-NOAA forage review listed which stocks of Chinook were most important to the whales.
Upriver brights – wild kings that primarily spawn in the free-flowing Hanford Reach below Priest Rapids Dam but also in tributaries above there and in the Snake and Idaho rivers – were identified as tied for the third most crucial SRKW feedstock, topped only by fall Chinook that return to Puget Sound, the Lower Columbia and Strait of Georgia.
URBs are eaten by resident orcas as they migrate from Southeast Alaska down the British Columbia and Washington coasts before turning left up the Columbia.
An initial potential suggestion from the SRKW task force would have recategorized walleye — along with smallmouth bass and channel catfish — as "invasive" (WDFW considers them to be a game fish).
That did not come to pass, but the group's final recommendation did include removing limits on the three species and launching a study to "Evaluate predatory fish reduction options in McNary reservoir as the basis for further action to protect juvenile salmon."
Last year, House Bill 1579 was passed and required WDFW to "liberalize" limits on walleye, bass and channel catfish in anadromous waters, those beyond the Columbia system with sea-going salmon. The Fish and Wildlife Commission interpreted that to mean loosening but not eliminating daily bags.
And the 2019 state operating budget included $1.36 million this year for various items meant to increase Chinook for orcas, including "reducing salmon predation by nonnative fish," with a similar amount next year.
WHICH IS WHERE McMICHAEL, THE ANGLER/RESEARCHER, comes back into the story.
There may not be a lot of state data on predator-prey relationships in the Columbia but others are taking a look.
McMichael says one study found that only one out of three URB presmolts make it from Priest Rapids to McNary (other research from 2014 fund half wild smolts did).
A 2016 study he coauthored found walleye ate 2.5 salmon per day, smallmouth 1.3. Salmon represented 90 percent of the fish in the guts of the former fish, 60 percent in the latter.
But McMichael is also quick to point out that his data is just a "snapshot" in time and that it followed three years of staggeringly high fall salmon returns to the Hanford Reach, which would have flooded the system with copious fry.
This is anecdotal, but walleye fishing surged afterwards, perhaps due to a large year-class or two overlapping with an abundance of prey.
McMichael says modeling suggests that reducing causes of mortality between PRD and McNary by 50 percent would boost adult Chinook numbers by 100,000-plus annually – fish that would not only be available for orcas but recreational, tribal and commercial fleets as well.
Meanwhile, he was waiting to get back on the water and catch the rest of his 170 fish for his latest study.
"My expectation is, once the data is available, they will consider what to do to reduce predator loss," he says pointing to the state of Washington.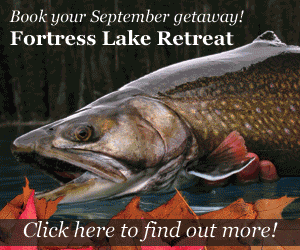 Then he notes, "If those fish spawn all over and are scattered, you can't do much about it."
In fact, McMichael thought he had an inkling about where he could find a lot of very young walleye – the Yakima delta – and if that was the case, perhaps altering Columbia flows via the dams could draw the fish into the deeper, cooler river where they would perish.
However, when he tested the theory, he didn't catch any baby walleye in the delta's warmer, protected waters, just prickly sculpins. That means the SRKW task force recommendation to fluctuate water levels to disrupt walleye and bass spawning success may not be a very viable idea.
"It was a concept for several years to look into, but it flopped. I'll be the first to admit it," McMichael states.
He also admits there's "a lot of animosity" out there about what he's doing. A photo of his truck and boat at a gas station were shared on Facebook.
And he claims that concerned anglers he talked to only "selectively heard" what he was saying, leading to frustration for him as that interpretation got around.
"I'm not a fanged walleye eradicator," he maintains.
McMichaels does not come across as one, but given the state's history and the quality of the fishery you can't blame walleye anglers for baring their fangs either.
A post on the Facebook Group PNW Walleye Addicts encouraged fishermen to send to state legislators an email subject-lined "Under the radar effort to deregulate/remove walleye from Columbia River."
"In the spirit of trust and transparency the WDFW should have informed the public that this was being considered and is now currently in the feasibility stage with walleye being killed," the message concludes. "Since this did not occur these projects need to be immediately halted until the public has an opportunity to weigh in."
Given the fraught situation between the state, anglers and himself, McMichael wishes he'd been able to give a scheduled talk before a walleye club in February.
"I know a lot about walleye in that area and was willing to share," he says.
But at the last minute a call came in that he wasn't a fan of the species and so he got cancelled.
"I'm guessing if I had done that, we wouldn't be talking today," McMichael says.