Riffe Lake Stocked With Unexpected 405,000 Triploids From Cooke
An unexpected 405,000 triploid rainbows were released into Riffe Lake earlier this month, fish that almost had to go to the landfill but down the line will make some Southwest Washington anglers happy instead.
"It's going to turn that fishery around … especially next fall and next year," forecasts Larry Pryor of Northwest Fisheries Enhancement, who worked as a middle man to find a home for the trout.
Fishing in Washington doesn't reopen until May 5, and boat launches and parks on Riffe are also shut down for the time being.
Pryor says the fish were about 6 inches long when they were let loose in the upper Cowlitz River reservoir, and expects them to grow quickly.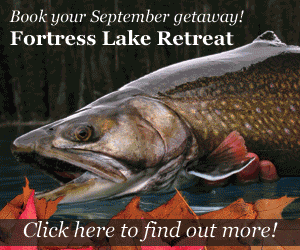 Triploids are sterile and put their energy into growing instead of spawning. These particular fish come from famed Rufus Woods broodstock.
But they weren't exactly meant to be let loose in the lake — more like Puget Sound netpens instead.
They belonged to Cooke Aquaculture, which was growing them at a hatchery near Chehalis as a replacement for Atlantic salmon. Rearing the East Coast fish was banned in Washington after company nets overloaded with mussels and marine plants tore loose in August 2017 and a quarter million farmed fish escaped.
However, a delay from the state Department of Ecology in permitting Cooke's plan to raise rainbow/steelhead instead and the imminent shutdown of their hatchery due to the coronavirus crisis, meant the fish had to go or otherwise be destroyed, like two previous batches.
Rather than see them go to waste, Pryor says he went to work reaching out to various federal and state agencies, utilities and tribes to see if anybody could take the fish.
WDFW Hatchery Manager Eric Kinne said the state wasn't in a position to buy them, nor did it have a lake to put them into, but after Tacoma Power — which operates the dam, launches and parks on Riffe — expressed interest, agency fisheries scientist Ken Warheit visited Cooke's facility on April 2, sampled the fish for PRV and ran the tests while other agency staffers expedited stocking and transportation permits.
"We didn't want to see the fish destroyed or end up used for crab bait," Kinne said.
Outside the Northwest fishing world, with meat processors having to shut down, farmers are having to make tough decisions about slaughtering their livestock.
Due to Mossyrock Dam's "super deep" outlet, there's little risk the fish will pass downstream, Kinne also indicated.
With green lights on all accounts, on April 7, 8 and 9 404,908 triploids were hauled via flatbed semi trailer up Highway 12 to the dam and the Kosmos area, at the upper end of the reservoir.
But because of how low the water was, long 12-inch-wide hoses had to be snaked well down the bank before the fish were flushed out of 14,000- to 17,000-gallon tanks.
The release drew the attention of a dozen eagles, Pryor says, but he believes the fish will have spread throughout the lake by now.
Riffe is best known for its resident coho and smallmouth bass fishing.
While anglers will eventually benefit from the permitting delay and downturn in commercial markets that left no buyers for the fish, Pryor hopes the stocking will result in an economic boon for area businesses.
"I know folks at Barrier Dam Campground and local sporting goods stores are hurting. This should have a positive effect on the fishery around there," he says.