Post A Fish Pic, Maybe Win Cash, Prizes At NSIA's 'Pandemic Style' Spring Fishing Classic
Awards ceremonies and buffet dinners are right out during these Covid-19 times, but that doesn't mean you can't still hold a fishing derby and give away prizes!
That's the spirit behind the Northwest Sportfishing Industry Association's "pandemic style" Spring Fishing Classic fundraiser.
It will feature very socially distanced angling for a wide variety of fish on May 30, and then a Facebook Live drawing on June 1 to give away $500 in cash plus five "fun-filled" baskets of prizes and gifts.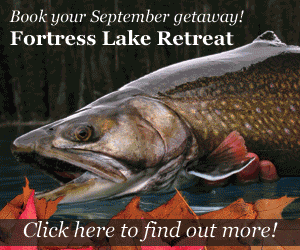 To enter, register and buy a $25 ticket at nsiafishing.org, take a picture of any legal fish you catch anywhere in Oregon and Washington on that Saturday and post it on NSIA's Facebook page between 6 a.m. and 6 p.m.
The Spring Fishing Classic typically includes a day of spring Chinook angling on the Willamette, Columbia and/or other rivers, with teams competing to weigh in the largest and most salmon for cash and prizes awarded at a reception and dinner that evening.
But with coronavirus, NSIA had to scramble to come up with another way to hold the important fundraiser, money from which helps the Portland-based organization advocate for recreational fishing as well as fish stocks in the halls of power in the Northwest and nationally.

Along with springers, participants in this year's event can enter photos of steelhead, sturgeon, shad, trout, walleye or any other open species they hook in either state. Anglers must be appropriately licensed.
Paid registration and a fish pic enter you in the drawing, according to event rules.
Deadline to enter is 9 p.m. May 29 and besides registering online, you can also call (503) 631-8859 to do so.
Sponsors include Northwest Sportsman magazine, Tom-n-Jerry's Boat Center, Smoker Craft, EZ Loader, Fisherman's Marine & Outdoor, D&G Bait Inc., Berkley, Okuma, Stevens Marine, STS and Freshwater News.