What's Fishin' In Oregon (7-15-20)
THE FOLLOWING ARE HIGHLIGHTS FROM THE OREGON DEPARTMENT OF FISH AND WILDLIFE'S WEEKLY RECREATION REPORT
Best bets for weekend fishing
Anglers are spoiled with choices right now. Trout, bass and salmon are all on the list.
· "Summer" Chinook in Nehalem Bay. The first fish of this early run of fall Chinook have arrived.
· Smallmouth bass in the Coquille system. Temporary regulations allow the use of spears and spear guns to harvest bass for a unique fishing opportunity.
· Summer steelhead in the Rogue and Wilson rivers. It's been slow, but fish are arriving and some are being caught.
· Bass fishing at Lost Creek and Emigrant reservoirs. With warmer water temperatures anglers are turning their attention from trout to bass and other warmwater fish.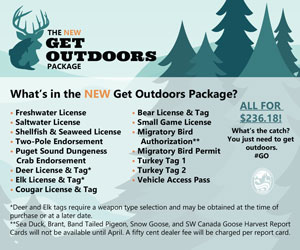 · Trout at Diamond Lake. Anglers have been landing trout up to 20 inches long at this premiere fishery.
· Redband trout in the Wood River. It's grasshopper season so don't forget your hopper patterns.
· High lake trout in Blue Lake in the Gearhart Wilderness. The hike in is great and the fishing has been even better.
· Trout in the Wallowa River. Expect good bug hatches, cools water and active fish.
You'll find more "best bet" fishing opportunities listed at the top of each zone in the Recreation Report.