Baker Lake Opening For Sockeye Fishing July 18
With "sufficient numbers" of sockeye transported up to Baker Lake from the trap downstream, recreational fishing for the salmon will open this Saturday.
It marks a sharp U-turn from doom and gloom concerns earlier this month by one fishery advocate over a potentially below-broodstock-needs run after it got off to a slow start.
"Fish are pouring in," said WDFW district fisheries biologist Brett Barkdull this afternoon, pointing to counts of 1,198 and 1,092 the past two days.
His agency made the announcement in an emergency rule change notice this morning.
The e-reg also states: "The Skagit co-managers (WDFW and treaty tribes) will be closely watching sockeye returns to the Baker River upstream fish trap to ensure broodstock goals are meeting objectives. WDFW staff will be monitoring the Baker Lake fishery and numbers of sockeye hauled to the lake to ensure 1,500 sockeye remain in the lake for natural spawning. If lake escapement appears to be in jeopardy the lake fishery may be closed. Anglers should regularly check the WDFW emergency rule updates webpage for the latest information."

Through Saturday, July 11, a total of 5,401 fish have returned to the Baker River fish trap, with 2,314 of those transferred up to the lake, 1,852 set aside for broodstock needs and 1,235 designated for natural spawning beaches.
A total of 10,000 sockeye are needed to meet eggtake goals. The midrange of the preseason forecast is 13,242 fish to the mouth of the Skagit, which the Baker system feeds.
Closely watching early progress of the run in June and early July, sport salmon angler Frank Urabeck's back-of-the-envelope calculations had the return coming in as low as 5,500, with a midrange estimate of 7,500 to the trap, but possibly as many as 11,000. The state and tribes' upper range is 22,000-plus.
Daily limit for the July 18-Sept. 7 sport season is two, 18 inches or larger, and two-pole angling for those with the WDFW endorsement will be allowed. Boat limits fishing is also in play, meaning lines can be out until everyone aboard gets their two.
Action will depend on how many sockeye are in the lake, but things have the potential to be busy. There are four Forest Service and Puget Sound Energy ramps scattered up and down on the reservoir with limited parking.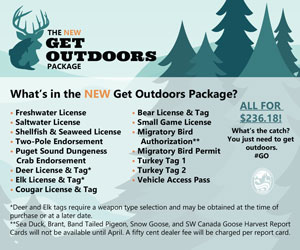 The angling can be technical and most of the action focuses on the upper end. Fishermen troll very slowly with bare red hooks or a hoochie and hooks less than a foot behind a chrome or other small dodgers.
"I don't know if I have any secret tips, other than if what you are using isn't working right now, and you see fish on the graph, do something else," advises Barkdull, an avid salmon angler in addition to being a state biologist.
He'll be bringing his big tackle box, and then some to the lake.
"I have mini squid, the plankton-size squid, pink Smile Blades, flies, bare hooks, bare hooks with a bead, and very small pearl pink, hot pink and red Spin-N-Glos at ready, cured prawn, sand shrimp at the ready. Try turning the boat, speeding up, slowing down, or cranking up a couple feet once in a while to induce followers to commit. If what you are doing isn't working, keep trying new stuff!" Barkdull tips.
This year's run has already provided for two tribal fisheries.
After holding off on their season for a week, the Upper Skagits put their nets in July 6 for several hours, with plans to distribute their catch to tribal elders, per a press release from the tribe and forwarded by the Northwest Indian Fisheries Commission.
The statement attributed most of the rise of the sockeye run from less than 100 fish back in 1985 to 51,000 in 2015 to "the efforts of the tribes and WDFW in the Puget Sound Energy hydroelectric relicensing process which led to increased fisheries enhancement and fish passage improvements."
But USIT's Scott Schuyler warned that sockeye and other Skagit runs still face danger
"The decline of salmon also correlates with deteriorating environmental conditions like the re-occurring salmon-killing warm water 'blob' off our coast in the previously cool North Pacific. Salmon need cool clean water throughout their life cycle but as our glaciers continue to recede due to global warming our ocean and rivers also are warming. It's time to oppose current environmental protection deregulation efforts which are contributing to declining salmon runs," Schuyler said in the release.
Even as fishermen from both fleets now have a chance to harvest some of this year's sockeye run, they should keep that in mind to help ensure salmon in the future.