Home
Editors Blog
'Let Us Fish' Say Anglers In Protest Of Washington Cl …
'Let Us Fish' Say Anglers In Protest Of Washington Cl …
If it had been a normal spring day, they might have all been down at Drano Lake, trolling and casting for spring Chinook.
Instead, anglers in dozens upon dozens of boats circled in the waters of the Columbia near Tri-Cities as many more gathered on the shores of the big river this morning to protest Washington's closure of fishing.
The common message to Governor Jay Inslee was to "Let us fish," an activity deemed not essential by the office of the highest official in the state and banned since late March due to COVID-19, with May 5 the earliest it might reopen.
The protest was organized by Ben Hanes after last weekend saw many recreational boaters enjoying a day on the water but he couldn't fish with his young son.
Multiple videos from the event showed many boats had two to four passengers, and they were mostly well spread out. It looked like a mix of families and fishing partners. Many held various signs, some boats flew American flags.
Roger Harnack, an Eastern Washington newspaper publisher, estimated there were more than 100 boats on the water, with 300 more people in the park, in a tweet he posted around 10:15 a.m.
Gerardo Reyes of Flatout Fishing, who guides for salmon, steelhead and walleye, narrated a nearly half-hour-long Facebook Live feed as he swung his big sled past shorebound protesters and circled with the rest of the fleet off Columbia Point Park in Kennewick.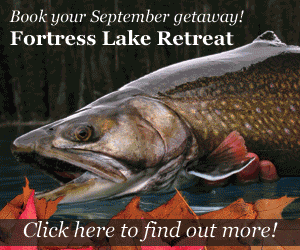 At one point in his broadcast, Reyes was interviewed by David Cortinas of La Voz, a Hispanic newspaper, on how coronavirus restrictions were affecting he and his wife Priscilla's businesses.
"We're double beat up," he can be heard to tell the reporter.
Speaking of getting beat up, WDFW officials acknowledge the impact of the governor's order is sinking the agency's reputation.
They're also working towards some framework for reopening fishing as well as hunting in Washington, and this week met virtually with dozens of stakeholders.
"One of the big things we heard from those groups is, open it in a way where locals can participate. We don't want people traveling across the state," Director Kelly Susewind told the Spokane Spokesman-Review outdoor reporter Eli Francovich in a livestream this week.
Fish Program manager Kelly Cunningham stressed to this magazine that it boils down to being able to meet three basic tenets — flexibility in Inslee's Stay Home, Stay Healthy order to allow the activities again; available access to the waters and woods; and coordination with local officials.
The closures essentially began in mid-March when the Pacific County Health Officer moved to block a planned razor clam opener on the Long Beach Peninsula and north side of Willapa Bay to prevent the spread of coronavirus.
There's still only one COVID-19 case in the county, and less than a handful in six rural counties elsewhere in Washington.
Washington is on the right side of the curve, but health experts warn that relaxing social distancing too early could lead to another wave of infections. The United States leads the world in deaths and confirmed cases.
Yes, today's protest brought people close together at a time when we shouldn't unnecessarily risk doing so – the Tri-Cities Herald editorial board actually advised against it for that reason.
And there were a sign or two on display that should have been kept stowed below deck for the sake of the greater image of sportsmen.
But that so many anglers turned out to make a statement about the importance of fishing is notable and should be seen and heard far beyond the banks of the Columbia in Tri-Cities, and it served as an opportunity to blow off some steam.