WDFW Reports 1.5 Million Young Salmon, Steelhead Lost Due To Drought, Heat
WDFW this morning reports that 1.5 million young hatchery steelhead, coho and other fish have died at state facilities because of diseases caused by low, warm waters, and it is releasing other salmon a year early because of diminishing flows.
"This is unlike anything we've seen for some time," said the agency's Ron Warren.
According to WDFW, the Soos Creek Hatchery has lost 34,000 summer steelhead and 153,000 coho, roughly half and one-fifth of those on hand at the Green River facility outside Auburn.
On the North Fork Toutle, another 102,000 coho died. The survivors are headed for Tacoma Power's Cowlitz Hatchery.
WDFW says that over a dozen of its 83 hatcheries are dealing with low flows or hot waters due to the drought, conditions that are leading to increased chances of disease outbreaks that can be fatal for the young fish.
To counter it, the agency is "using re-circulation pumps and aerators to reduce the effects of warm water temperatures at hatcheries. The department also is providing medicated feed to fish in some situations to combat fungal and bacterial infections triggered by elevated water temperatures."
Wells are also being reconditioned at Kendall Creek Hatchery on the North Fork Nooksack to improve water supplies there.
Where fixes are unavailable, such as at Icy Creek, where flows halved in a week, WDFW says it released 107,000 fall Chinook.
Those salmon were meant for release next July, but at eight months old, Warren says they're old enough to make it on their own in the wild.
WDFW has hardly been alone in fighting for fish in the drought, which has stricken returning Chinook and sockeye in the Columbia system. ODFW released some of its fish early, last week the U.S. Fish and Wildlife Service did the "salmon shuffle" to move 160,000 young springers from a Central Oregon hatchery to one on the Little White Salmon, and the Idaho Department of Fish and Game collected sockeye at a Snake River dam and transported them past Hells Canyon to make sure they survived the water conditions.
And TV news stories highlighted efforts to help salmon get upstream on the Sol Duc and remove rock dams on the South Fork Snoqualmie.
While the weekend provided some relief from the drought in the form of thunderstorms that rolled across parts of Washington, the short- and long-term forecasts are offering no respite for rivers, 75 percent of which are flowing below normal, the U.S. Geological Survey tweeted yesterday.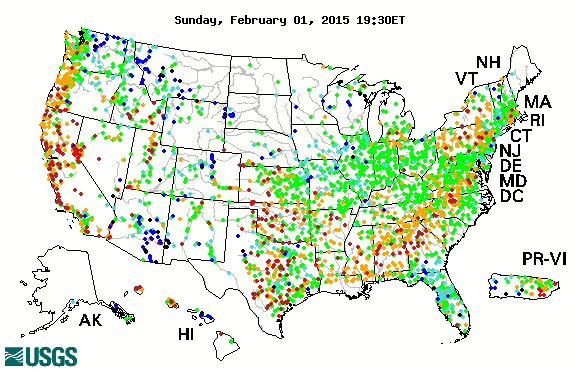 A GIF CREATED AT THE USGS'S WATER WATCH WEB PAGE SHOWS LOW FLOWS TAKING HOLD OF NORTHWEST RIVERS IN MID-FEBRUARY AND INTENSIFYING THROUGH LATE WINTER, SPRING AND EARLY SUMMER. (USGS)